There Are Many Reasons Patients Put Their Trust Into Our Institute and Choose Our Unique Approach To managing Neuropathy symptoms.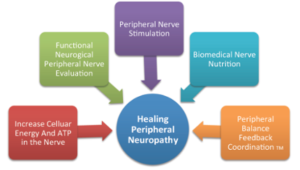 We know that successfully managing neuropathy takes more than just masking your symptoms with medications. 
Our focus is on not only the nerves, but also on the immune system which is the most common underlying mechanism for all types of neuropathy. This includes diabetic onset, chemo induced, and the most common form, "idiopathic" neuropathy (a fancy word to mean 'unknown cause'
When it comes to treatment directly to the feet (or hands) for neuropathy relief we only use those modalities that have been proven to be safe and effective for neuropathy symptoms.
We use functional lab testing to guide and direct our care plan. This means that your natural treatment protocol for your neuropathy symptoms is based off the unique imbalances in YOUR body. Not just what the 'typical' neuropathy patient has.
Most importantly we care for and listen to our Peripheral Neuropathy patients. We know that many doctors practically herds you in and out of their office, and never takes the time to help you understand why you feel the way you do, about managing neuropathy and how the treatment is going to ultimately help you feel and function better. We take a partnership approach to health care and want you to play an integral role in your treatment.
If you haven't requested and read our special neuropathy relief guide, you should request it now. You can click here for your free neuropathy guide. By entering your name and email address and clicking the submit button it will be emailed to you.
Disclaimer: The contents of this site are for educational purposes only. The purpose of this website is to promote broad consumer understanding and knowledge of various health topics.  Nothing here should be construed as medical advice or a substitute for actual medical care. We do NOT diagnose, treat, mitigate, prevent or cure any disease or health conditions. Our whole-person wellness approach seeks to optimize healthy body function and give the support to facilitate healing…Naturally! The statements in this website have not been evaluated by the United States Food & Drug Administration.